Who We are
Pawprints of Vero Beach takes Dog Day-care to a new level. Our facility is designed to help a dog realize his/her full canine potential in a safe and secure environment. Our goal is to make dogs happier and healthier, allowing their human families to enjoy the joys and rewards of sharing a home with a canine companion.
What we do
Our time-proven methods are designed to help your dog become a good canine citizen. We offer several levels of service, from exercise, play, and socialization with other dogs (and people), to group training to develop basic skills, and private training for those who need extra work or require more than the basic commands.
Pawprints can help!
Living with a dog can be a challenge. Behavioral issues crop up throughout a dog's lifetime, from puppyhood to old age and every age in between. Most of these issues are linked to socialization, exercise, and physical health. While health issues should be addressed with a veterinarian, proper socialization and regular exercise are entirely within your control as the dog's guardian. That's where Pawprints can help!
We invite you to browse our website and learn about our services. Click "Contact" to ask questions, request further information, or to make day-care reservations for your dog.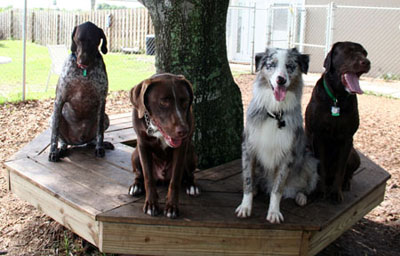 To Our Customers:
At this time of year it is not unusual for dogs to pass colds or coughs to one another. These upper respiratory symptoms can include coughing, runny eyes, itchy skin. All these symptoms can also be attributed to allergies or seasonal changes.
Please refrain from bringing any pets that may show signs of a cold or cough to Pawprints or dog parks.
Ideally if your pet shows any of these symptoms they should be kept away from other pets for 7-10 days. Dogs can't tell us when they are sick so we have to make the decision for them if they show any signs.
Thank you for your support
Kim and Sean
Upcoming Events and Classes
Photos from May 2013 pond party.